Can you believe it's already April 29th? What an "adventure" the past several weeks have been! We hope this letter finds you and your loved ones safe and healthy and that you're finding ways to stay sane in the midst of the Covid-19 stay at home order. We know the quarantine has made life difficult for many, while others have felt like they had an extended staycation. Some are climbing the walls as they're trying to manage a new way of life that is VERY difficult. (We're looking at you single guys/gals who are mourning the loss of your social lives, seniors who are desperately missing visits from your children and grandchildren, and super-hero parents who are chasing stir crazy kids around the house all day while trying to manage your job, housework, and now homeschooling!) No matter where you fall in this spectrum, the change in lifestyle is significant and we have no doubt that these memories will stick with us for a while. Try to make the most of it and try to laugh when you can. We would LOVE to hear any of your strategies for sanity!


Our team has been self-quarantined since March 16th. Except that Real Estate is an essential business and we have had several appointments to list, show, and sell real houses and condos. We have taken the social distancing seriously and are always prepared with masks, gloves, hand sanitizer, etc. to protect our clients and ourselves. We too have had to make adjustments during this new normal. Here's how we're coping: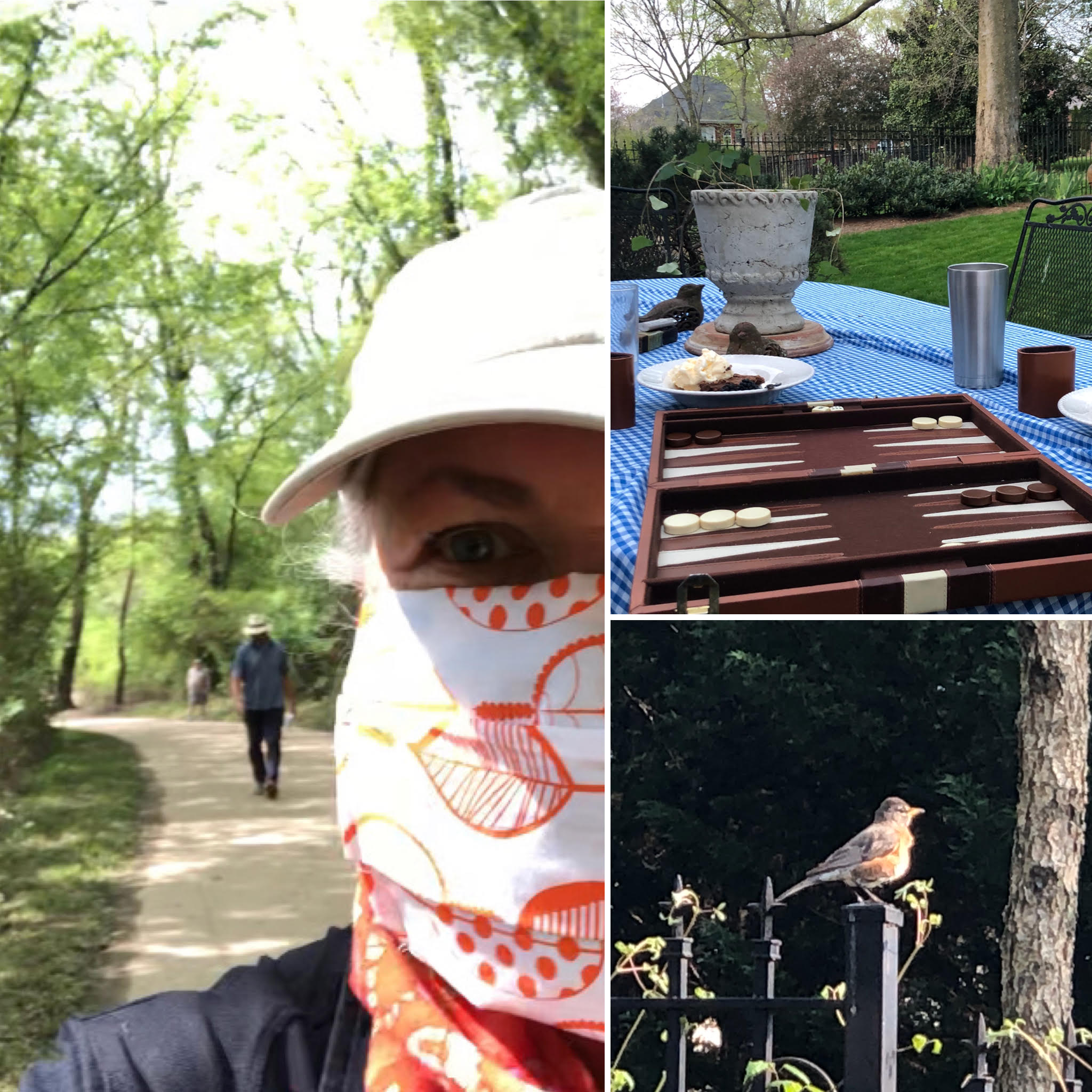 This #stayathome time has allowed me to keep on track for a couple of my New Years Resolutions. David and I have managed to continue our daily walk of 5+/- miles per day (weather permitting). I have exceeded my goal of reading 2 books per month…I actually read 5 books in March…so, if you want some book recommendations, let me know. I haven't done so well with my goal to lose 10 more pounds. As a matter of fact my #QuarantineCuisine phase has inspired me to become very creative with finding new recipes to use with ingredients we have on hand.. and as a result I have gained 5 lbs! Sadly, our planned trip to take our grandtwins to the Grand Tetons and Yellowstone in June was cancelled and we aren't sure when that can be re-scheduled. David has ventured out only once and that was to buy bird seed at Tractor Supply for our back yard menagerie of various birds and our resident family of squirrels (4 new babies arrived this spring). He, of course wore a mask and gloves and kept his distance. David has worked tirelessly in our yard and I must say, we have a back yard paradise. We do enjoy birdwatching and afternoon backgammon games on our patio. We have definitely had more time for that and it has been enjoyed and much appreciated. It seems to be challenging to venture out, as many people are not adhering to the social distancing suggestions and that concerns me. Facetime and Zoom have become a part of our daily lives, not only for business but keeping in touch with family and friends, it seems (remember when we thought the video call from outer space to earth in 2001 A Space Odyssey was amazing?) As soon as it is safe, I sure do look forward to some much needed "in person" time with my family and close friends, as well as a much needed haircut. And David and I look forward to planning a trip with our grandtwins. What about you?


~ Sharon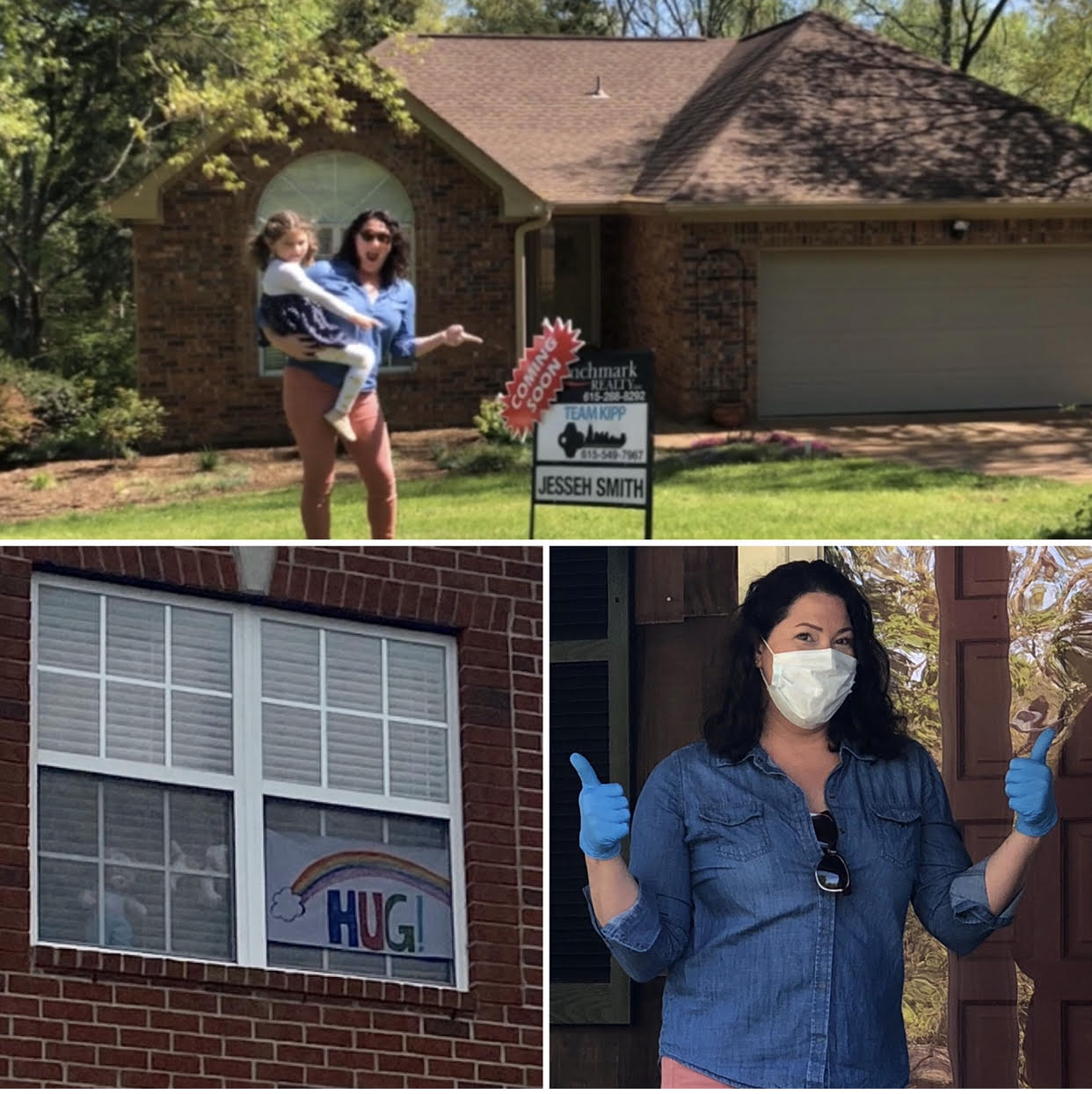 While the world has been quarantining and wondering about the virus & economy, the Smith house has been operating as usual, albeit a slightly more harried version of usual. I don't mean that to sound cavalier; it's just that both my husband (Matthew) & my careers are considered essential. Matthew works as a Detective for the Wilson County Sheriffs Office and as he would say referring to his case load, "unfortunately…business is booming". As Realtors, we have found that our client base has continued to need our help. There have been various reasons for the need to relocate which hasn't been stifled by the quarantine. It is such a blessing to be called upon and trusted in such times of uncertainty. The heaviest impact for our household has fallen what feels "usual" to our 5 year old. Sloane attends PreK at MJCA and ever since the tornadoes on March 2nd ripped through leaving many schools including hers to close for damage; normal life as she knows it has been upended. We've spent the last 7-8 weeks clinging to each other & bonding in a new way. We've taken time to care for our aging parents while keeping safe distance. Having taken on the role as home-school parent while being a working Mom has been taxing at times. We were also faced with a family medical crisis a couple weeks back that stretched us emotionally and physically. Through all of this I've faltered with coping mechanisms ranging from a bottle of wine & BravoTV to more healthful long walks, but eventually turning to my family & neighbors and accepting support has carried me along most. I've learned more about each of my family members, we've found ways to better communicate & have all seemed to grow through this challenging season. I hope your families are finding growth and connection too!


~ Jesseh
There's a joke that's been circulating on social media about how 2020 is a unique leap year because it has 29 days in February, 300 days in March and 10 years in April. And that feels way too accurate! All jokes aside, these last six weeks have been long and challenging, but also slow and rewarding, As a working mother of three children, I've had to adapt to my new role as a home-school teacher. There have been some days that have felt so hectic – filled with lessons on fractions with my 4th grader, Zoom classes, phonics lessons for my preschooler, and the constant requests for snacks! I sometimes find myself counting down the minutes until bedtime. But there have also been slower days filled with long walks, brownie baking, board games, laughter, and cuddling. We've been cooking more meals at home, which has been a great opportunity for my kids to learn some useful kitchen skills and has also resulted in our trying some great new recipes. We've been learning together, which has led to more conversations and has encouraged curiosity in all of us. And we have been getting more rest, which I didn't realize we needed as badly as we did. I think we're all ready for the day when we can visit with friends, go to the movies, and travel further than our backyard, but we've also picked up a brand new perspective on the value of slowing down and staying connected.


~ Beccah


Please know that Team Kipp is here for you. If you need anything, please call us. If we can help or leverage our network of amazing people to help, we will do so in a heartbeat. This has been an amazing season of people coming together for each other in tremendous ways. The tornado demonstrated that Tennessee is called the "Volunteer State" for a reason, and even though we are all cooped up in our homes, we can still support each other.


If you own a small business that's being negatively impacted right now or it you work in an industry that is hurting, please update us. If we cannot help, we likely know someone who can. Sending a "virtual hug" to each of you!! Cannot wait until we are able to reconnect!