NASHVILLE, Tenn. (Oct. 7, 2020) – There were 4,336 home closings in the Greater Nashville Region reported for the month of September, according to figures provided by Greater Nashville REALTORS®. This figure represents a 17 percent increase compared to the 3,704 closings in September 2019.
Data for the third quarter of 2020 showed 13,419 closings, up 12 percent from the 12,030 closings during the same period of 2019.
"The housing market has recovered nicely, and continues with positive gains. The uptick in closings means that buyers are still in the market for homes despite the low inventory," said Kristy Hairston, Greater Nashville REALTORS® president. "The Greater Nashville area remains increasingly attractive to consumers looking to relocate to our great city. With remote work being a part of our daily lives, we can expect to see change in their home location preferences."
There were 3,799 sales pending at the end of September, compared with 3,181 pending sales at this time last year. The average number of days on the market for a single-family home was 29 days.
The median residential price for a single-family home during September was $348,000, and for a condominium it was $245,000. This compares with last year's median residential and condominium, prices of $318,000 and $236,000, respectively.
Inventory at the end of September was 7,847, a decrease from 11,447 in September 2019.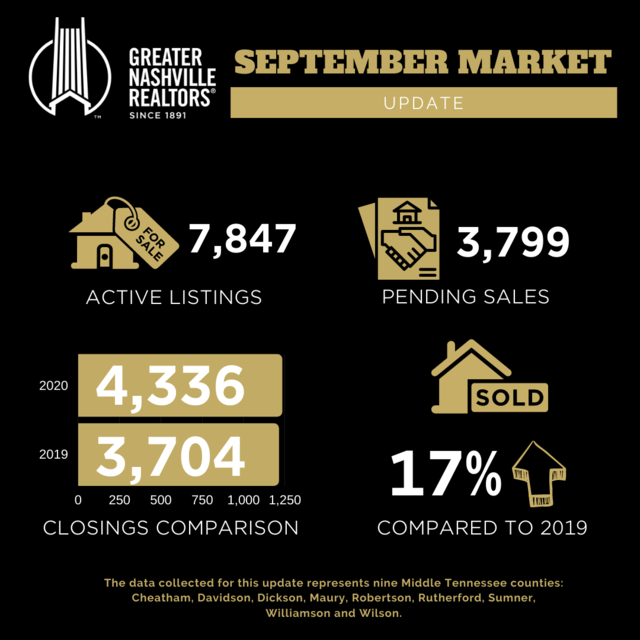 "As we round out the third quarter, we have seen a 2 percent increase in sales year-to-date. Inventory remains low across the region. Lower inventory coupled with low interest rates makes for a competitive market for buyers in some areas. Choosing to use a Realtor to navigate our thriving market will set buyers and sellers up for success on their home buying and selling journey," added Hairston.
Information Courtesy of Greater Nashville Realtors
www.greaternashvillerealtors.org
If you'd like to be successful in your Real Estate goals, reach out to Team Kipp. We'd love to help!